Weight loss is hard. Many times you'll start a diet only to be left feeling "hangry" (hungry and angry at the same time) and not seeing the results you hoped for.

This is something many people can relate to, and Dan tried many different weight loss programs before he tried HCG with Horizons. Some programs he had initial success, but then either gained all the weight back or gained more than he lost. Dan decided to give Horizons a try and lost over 100 lbs, and is still losing. We sat down and talked to Dan and his wife Abby about their experience with our weight loss program at Horizons. This week we will highlight Dan, next we will highlight Abby, and then we will talk about their experiences doing this weight loss program together.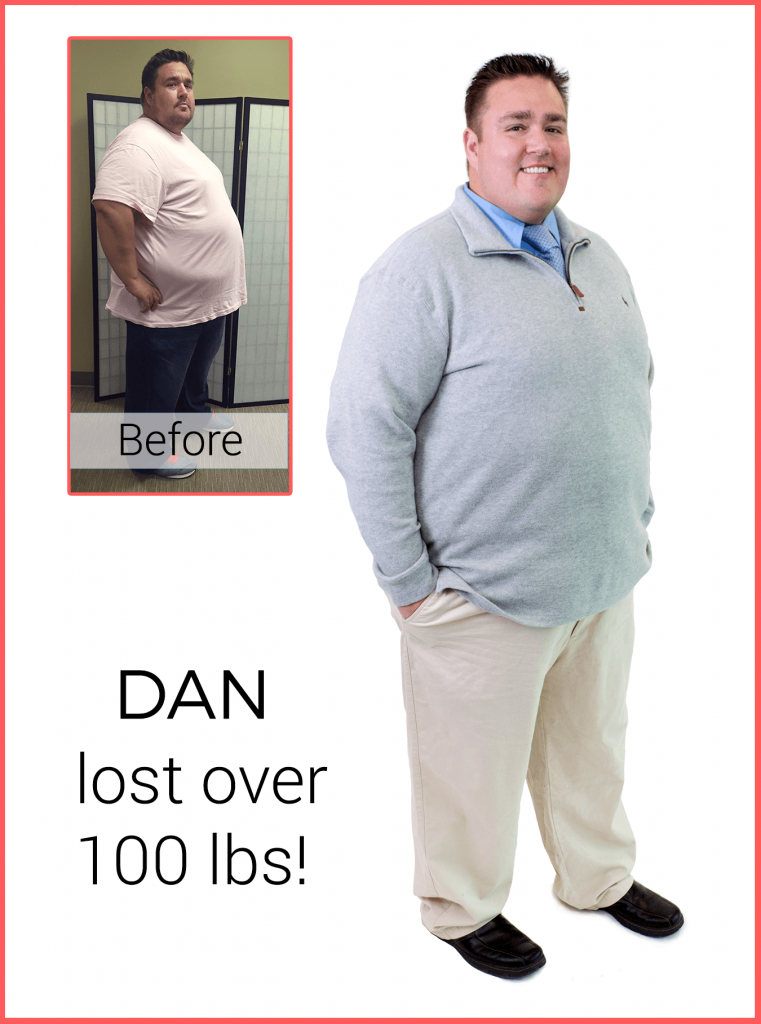 What made the HCG weight loss program at Horizons different from other weight loss programs you have done in the past?
I felt like the support was a lot higher. I felt the accountability was a lot higher; having to go in every single week and see Dr. Rowser to be weighed in definitely made me want to stay on the program more. The fact that my wife and I did it together we were able to support each other through that. It was very well outlined for me what I was supposed to do and how I was supposed to do it, so there were very few questions. I felt like if I did have a question, which I did, I could easily contact Dr. Rowser and get the answer right away.
What were some of the challenges you experienced during the program?
Well I'm a teacher in high school and students like to suck up, and usually they like to suck up with cookies and cakes and chocolate bars and everything that you love, and I had to keep saying no and no and no and no. These were all things that I loved. I also started to get a little "hangry", as I like to call it, where you get hungry and angry at the same time, and it took me about 3 weeks to adjust to that – to adjust to a different amount of food, to adjust to a healthier kind of food. But once I did that hangriness started going away. And my students started supporting me once they starting seeing the weight loss. They stopped offering me the things they knew I couldn't have. 
What are some of the benefits you've seen after losing 100 lbs?
I used to look at a stairwell, and be out of breath just looking at it. I literally did not want to step on that first stair and climb the 13 others, or the 15 or 40. I didn't want to do it. It was a pain. I was always out of breath- I felt like the fat person walking in the room out of breath and everybody knew I took the stairs, so I would avoid it at all costs. Now I race people up the stairs – I beat people who are really skinny. And it makes me happy. I find that I'm much more active, I'm much more involved. I don't want to sit there and sleep 20 hours a day, though I do love my sleep.  I am much more active. And it's fun to be active. It's exciting because my kids like it more. My wife likes it more. It's something I never thought I'd be doing again, just because I was so out of shape. It was hard. It felt impossible. And I'm not in that same mode anymore.
What would you tell someone contemplating doing the HCG program with Horizons?
I would ask them, what have they done in the past, and I would ask them how successful they were. I would ask them: do you want to continue to being the person they are? What have you done so far? What's worked for you? And ultimately, it's obvious that it hasn't worked because you're contemplating HCG. HCG isn't just about weight loss for me, it's about changing the way I eat, who I am,  increasing my energy, becoming a stronger person who wants to live longer. If that's something you want to do, if you want to see a different you, if you want to see a happier you, then you should absolutely stop worrying about whether or not it's going to be for you and give it a shot. You honestly have nothing to lose, and so much more to gain. Well, that's not true. You have weight to lose, and you can do that. I've lost 100 lbs and I'm going to weigh in today and I probably lost more. And I'm gonna keep going. If you want to be healthier, then this is the right choice. Period.